DIRECTIONS TO CAMP: If approaching Asheville from the EAST on I-40, take Exit 50B, US 25 NORTH. Follow signs to entrance to Biltmore Estate, turning right off exit ramp and moving into the LEFT lane to prepare for the turn into Estate Entrance.
If approaching Asheville from the WEST on I-40, take Exit 50, turn LEFT off the exit ramp at the light, following signs to Biltmore Estate Main Entrance. Stay in the left lane after your merge into traffic.
If approaching Asheville from the SOUTH on I-26, continue to the junction with I-40 EAST. After you get on I-40, take Exit 50 and follow directions as above.
If approaching Asheville from the NORTH on I-26, pick up I-240 EAST, to I-40 WEST, take Exit 50B, US 25 NORTH, and follow directions as above.
After you pass through the first archway (Lodge Gate), continue to bear left to go past the Ticket Booth. Follow the signs for "Horse Event" (or for BEC), going past Deer Park Restaurant; continue just past turn into Deer Park to STOP sign where you turn left and continue to next STOP sign (2 miles from ticket booth). Turn left again. Continue on the road for 1.5 miles.
THEN
You come to a large stone bridge that you cross and go straight onto gravel road, which will bear right, allowing turn for large trailers. Once you reach the River Rd (still on gravel), turn left and proceed upstream about a mile to camp.

Note: Once within the Estate, watch for oncoming traffic and stay well to the right side of road.
Note: to exit, undo how you came in up to the ticket booth, turn left, then follow Exit signs.
SITE MAPS, CAMP DETAILS:
==> Site logistics: in general, put horses next to trailers, not behind. Back the trailer to within 8 feet of a fence, if applicable.
2022 SITE MAP HIGH LEVEL OVERVIEW of PARKING: 2023 may be similar, but the X may be removed. Fingers crossed.
Looked at another way, particularly close in to the event main area, try this (again, we hope the X will be gone, and a straight in to the camp is available):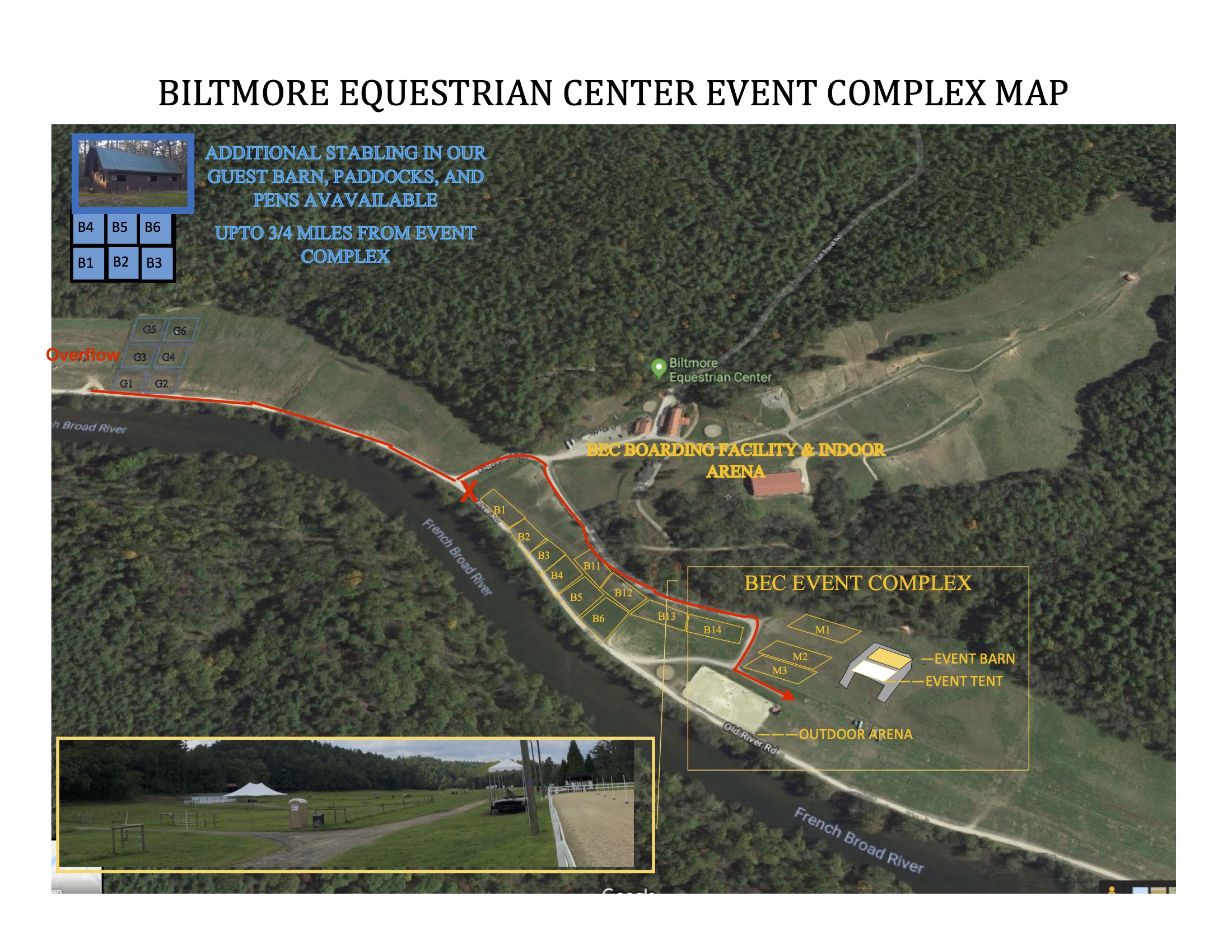 2022 DETAIL PLAN FOR VETTING AREA / HOME CAMP is available here: Note: for 2023, we plan on using BOTH the arena (for nighttime trot outs) and the outside grassy area (for daytime trot outs). NOTE access -- We hope River Road is will be available for vehicles, and horses will be back behind the paddocks. TBD. We hope trot outs will revert to 'normal' as opposed to what is shown on the attached, where :Trot outs are 'backwards' from prior years. Arrival and Release Timers are on River Road. Crewing is close to River Rd. Vehicle access is on what in prior years was the arrival and release lane. WATCH THIS SPACE!